Med Eventpos' database har du mulighed for at inddele din organisation i områder, hvor hvert område kan have 3 lag. Det kan f.eks. være at "barer" er et område, under barerne er der et "team", og på hvert team, er der "hold". Alle 3 lag har mulighed for at have en leder tilknyttet, så du har en overordnet der styrer området og den person har nogle ledere under sig.

På alle holdende står det tydeligt hvem den nærmeste leder, samt de øvrige ledere, i området er. Det gør det nemt og overskueligt for den frivillige at skelne mellem de forskellige ledere.
Én af de mange unikke features, der er værd at fremhæve, er at vores system kan arbejde sammen med armbåndene, der sidder på armen af de frivillige under festivalen/eventet.

RFID chippen i armbåndet, som efterhånden ses på flere og flere festivaler, giver en række forskellige muligheder. F.eks. kan du bruge det som adgangskontrol, så du slipper for at have adgangskort, der hurtigt kan mistes. Det kan bl.a. også give mulighed for at sælge øl og drinks gennem din webshop, som ligger klar på chippen, når festivalen åbner – det kræver dog at du også benytter vores POS system.

RFID chippen giver en lang række af af muligheder, og det er næsten kun fantasien der sætter grænser.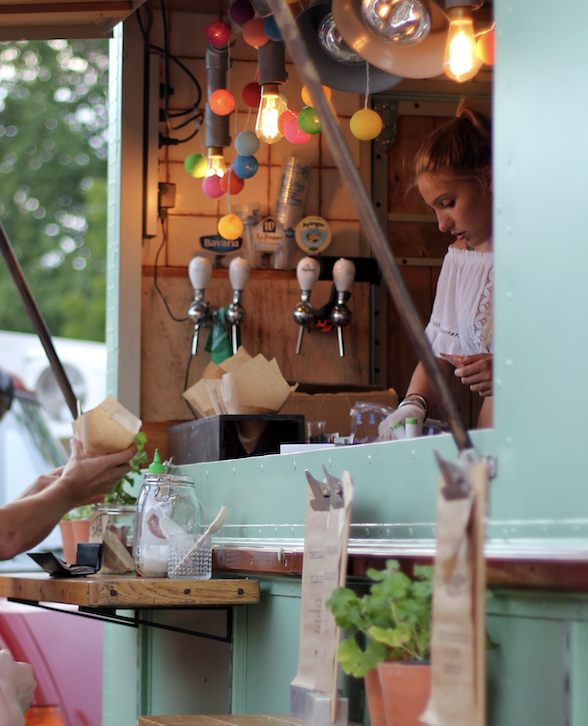 Når du kommer ind på forsiden af din medhjælperdatabase, har du mulighed for selv at vælge indholdet. De fleste vælger en kort velkomsthilsen, hvor de selv leverer teksten. Derudover vil der være en fold-ud menu, med 3 forskellige features, "Q & A", "Bliv frivillig" og "Log ind".
En "Q & A" er efterhånden blevet et rigtig godt redskab for mange hjemmesider. Den sørger for dine brugeres gængse spørgsmål bliver besvaret, uden du behøver at besvare dem, hver gang. Du vælger selv spørgsmålene og svarene på disse.

Når dine frivillige skal oprette sig som bruger, har du naturligvis behov for nogle informationer om personen. Hvilke informationer du har behov for, ved du bedst selv. Vi anbefaler derfor, at vi tager en snak om, hvilke informationer de frivillige skal indtaste. Der er både mulighed for at lave menuer, som de selv kan skrive i, men også afkrydsningsbokse, hvis du f.eks. har behov for at kende til deres kompetencer. 
Ved log ind
 i vores medhjælperdatabase er e-mailen den unikke faktor hos de frivillige. Dvs. at en e-mail kun kan fremgå hos én person. Det er derfor også e-mailen der fungerer som brugernavnet i vores system.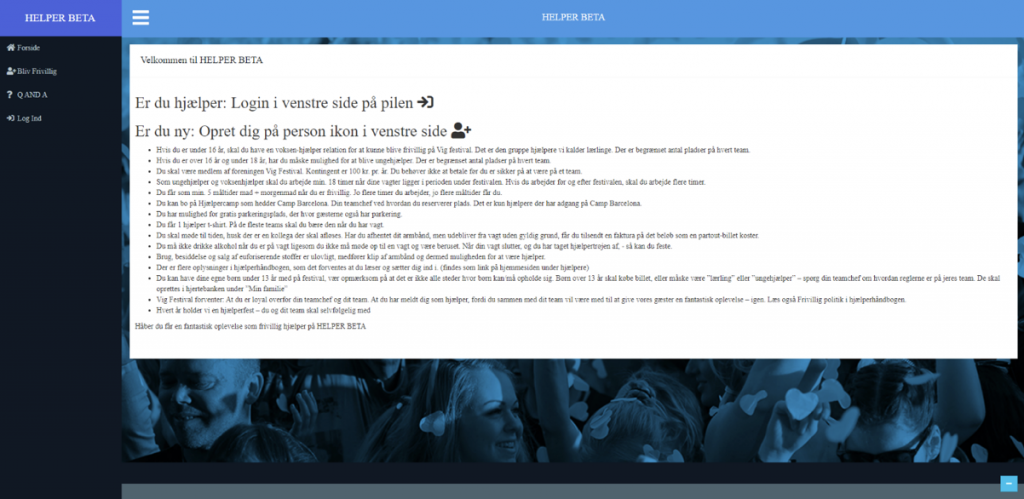 Vores app til dine frivillige er under udvikling.